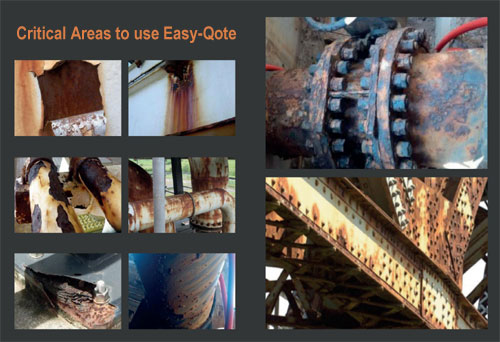 What is Easy-Qote®?
Easy-Qote® is a new SFL company with a goal of becoming the leading supplier of unique customized coatings in the world. Focusing on the needs and priorities of our customers.
Easy-Qote® offers the industry leading 'green' solutions through its Polyurea and Polyurethane spray coating systems and foam insulations for chemical resistance, performance and with toughness in overcoming surface preparation and application issues related to carbon footprint and total cost of ownership.
Why Easy-Qote®?
The unique performance properties of Easy-Qote's Polyurea and Polyurethanes make it a good cost and time effective solution for a variety of coating/lining applications in Oil and Gas Pipelines, Mining, Marine, Civil, Waterproofing, Refineries, Water and Wastewater, Flooring, among many other suitable applications throughout the industrial sector. This is especially so when you combine the materials with the advantages of visco-elastic materials for surface preparation and ease of application.
Easy-Qote® Liquid Coatings can be the most cost-effective solution as the coating can be put back into service immediately and the final properties of the coating are achieved within a few hours.
Contact SmartSeal LLC today for more details on our Easy-Qote® product.